News
Our students are making headlines, and we want to share all the great news with you. We will keep this page updated with important announcements, news stories, and student shout-outs. Please check back often, and help us celebrate our students' many achievements.
Dentist Visit
The dentist will be at our school soon. To sign up your child, visit My School Dentist. Sign up your child today!
El dentista estará en nuestra escuela pronto. Para inscribir a su hijo, visite My School Dentist. ¡Inscriba a su hijo hoy!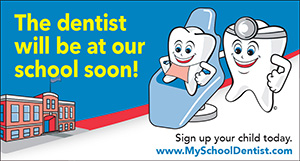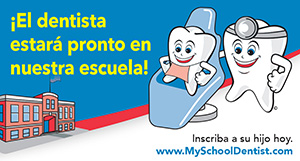 Traffic Safety and Procedures
We have new rules for traffic on the campus.
Speed Limit 5: It is vital that every driver entering the school's parking lot must drive at the speed limit of 5 miles per hour to ensure the safety of every student, parent, and staff member.
Daily Routine: Students must be dropped off at the parking lot and enter the cafeteria between the hours of 7:30 and 9:00 a.m.
Late: Students who are late must be dropped off by the blue gates to check in at the front office.
Safety: Please follow directions from traffic safety staff. Be aware of cones for traffic safety.
Parking: You must enter through the school parking lot to drop off and pick up students. There is no double parking permitted for safety precautions.
After-School Pick-Up: For after-school pick-up, you must enter the school's parking lot. After-school hours are from 2:00 to 6:00 p.m. There is no double parking permitted.
Testing/Examenes
Students will begin testing on September 1 through October 6.
Some helpful tips for students are:
Be Present
Early Sleep Schedule
Eat Breakfast
Do your very best!
Los estudiantes comenzaran del 1 de septiembre al 6 de octubre.
Consejos útiles para Estudiantes:
Estar Presente
Horario de Sueño Temprano
Desayunar
¡Haz lo mejor que puedas!